AllSpark 100ah LiFePO4 Lithium Battery, RedArc BCDC1225D Charger AND Enerdrive ePro - CONTACT US FOR PRICING
Product image 1
Product image 2
Product image 3
Product image 4
Product image 5
Combine the power of a
100ah AllSpark lithium battery

with a

1225D RedArc Battery Charger

along with an

ePro+ Enerdrive monitor

for your complete power system! 



BUNDLE AND SAVE $$$

 

***Supplied FREE is a 2B&S Negative Cable for shunt connection (rated for 185A, lugs with 8mm holes for battery negative and shunt connection) AND 2 x Bussman Midi Fuse Holders with fuses.***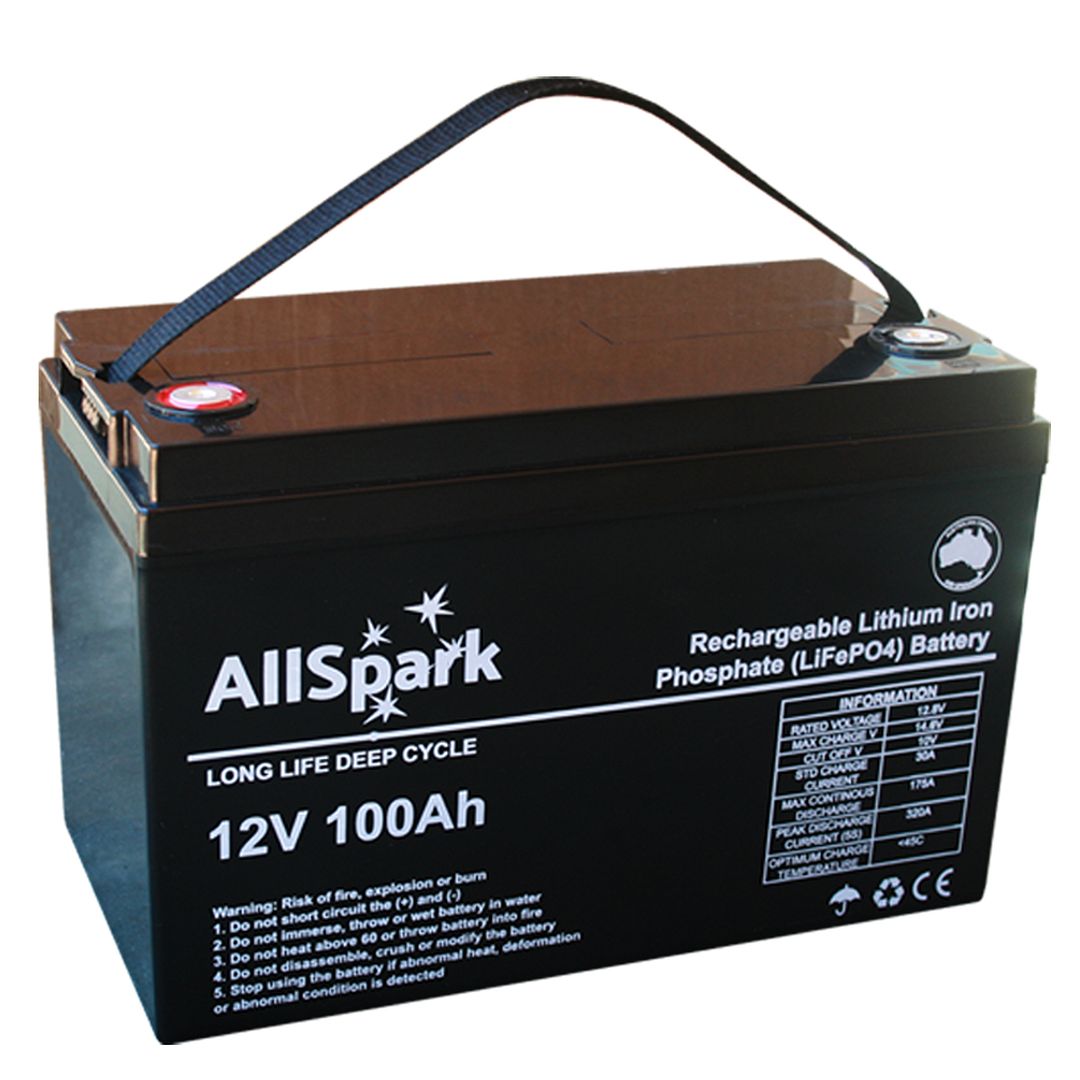 4 Year Manufacturers Warranty
30 Day Money Back Guarantee 
Benefits of the AllSpark LiFePO4 batteries include:
can be discharged safely by 80%, meaning that the 100ah is equivalent to around 160Ah AGM discharged to 50%

Rapid Charge - in a hurry? The AllSpark LiFePO4 100ah battery will take up to 100A to charge in record time

weigh less than half the weight of an equivalent AGM. This means they're taking up less space and less weight, which are always at a premium when you're camping and caravanning!

 Maintenance free with 2000+ life cycles at 80% depth of discharge, this battery is the perfect option for those serious about 4WDing, camping or caravanning.

175A continuous/320A surge: an exclusive BMS, developed by Offroad Living, this battery allows for the running of a 2000W inverter on a single battery.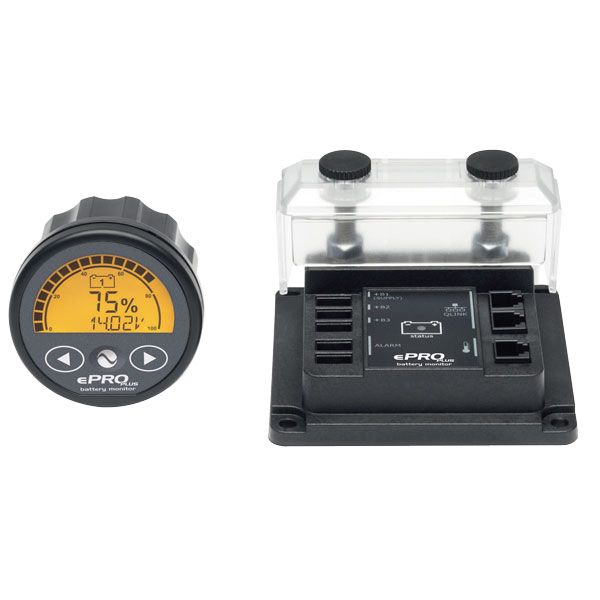 2 Year Warranty
The ePRO PLUS is Enerdrive's latest generation, highly advanced battery monitor. It consists of an intelligent shunt and a remote control display unit. The shunt has a Grid Optimized footprint for perfect integration with our DC Modular products.
shows the true state of charge of your battery system
monitor up to three battery banks
inputs for battery bank 2 and 3 can also be configured for other purposes, like mid-point voltage measurement, keyswitch input, setup lock or backlight control
measure DC currents up to 600Amps (500Amp continuous) and voltages up to 70Vdc
monitors any lead- or lithium based battery from 12V up to 48V
quick installation, requiring only one supply wire to the intelligent shunt base and a single 'QuickLink' cable between the shunt base and the control/display unit (CDU). Additionally, the battery minus cable must be interrupted in order to insert the shunt into the high current circuit. The fused supply wire and the QuickLink cable are both included in the package, avoiding the need for a separate connection kit.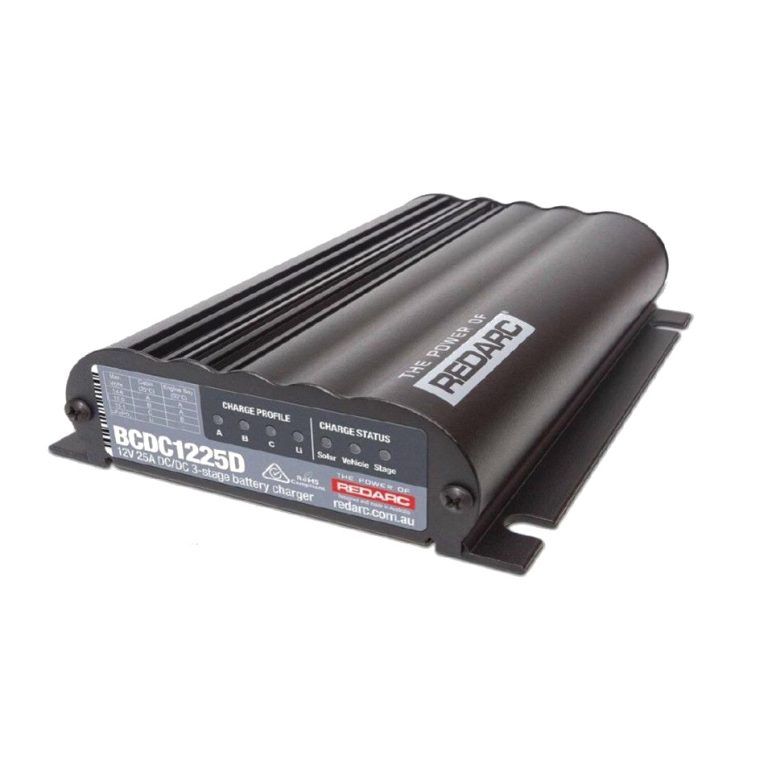 2 Year Warranty
The REDARC BCDC1225D In-vehicle Battery Charger is the next generation in REDARC's DC to DC charging technology, with additional features that make it the most advanced dual battery charger on the market.
Maximum Power Point Tracking (MPPT) solar regulator
charge from both solar and the alternator simultaneously
built-in 'Green Power Priority' will select solar charging first, meaning less load on the alternator
suitable for 12 or 24-volt vehicle systems
works with either standard or variable/smart alternators.
The BCDC1225D features the same patented charging profiles as it's predecessor along with a new lithium charging profile making the unit suitable for charging AGM, Gel, Standard Lead Acid, Calcium and LiFePO4 batteries.
For most applications, the BCDC1225D is suitable for battery bank sizes of 75-200AH. For higher capacity needs of over 200AH, REDARC recommends the BCDC1240D (check other listings in Offroad Living store).  
Proven and Tested
The award-winning technology in the BCDC has been independently verified and tested to ensure battery life is maximised, charging your battery to a proven 100%.
Built in Australia and tested for our unique conditions, the DC to DC battery charger will work in the extreme heat of the Simpson Desert, up to 80°C and can handle deep water crossings at Cape York – water, dust and vibration are no match for this charger.
If you're heading out into the bush and want to get there and back again safely – you can trust REDARC.  
WARRANTY
Offroad Living provide a minimum full 12 months Manufacturer's Warranty on all products we sell from the date original date of purchase (unless otherwise specified in the product listing). In the case of the AllSpark Inverter Generators, this is 12 months or 600 hours, whichever occurs first. We warrant that our goods will be free of faults during this time, are manufactured of an acceptable quality, have been accurately described in the selling advertisements and that spare parts and repair facilities will be available for a reasonable period after sale of this product.  These products are made for personal/domestic use only and are not supplied, design or sold as suitable to fit for purpose for Commercial use.  This Warranty does not cover normal wear and tear, damage from mis-use, water/moisture ingress, poor maintenance, neglect, natural disasters, war, terrorism or operation of the product in a manner outside of that specified in the user manual.  This warranty will be considered void if the user modifies, tampers with or alters the unit in anyway.  In the event of a defect and before returning the product for warranty, the buyer must contact Offroad Living first.  We will run through a series of trouble shooting and fault finding checks to determine the fault or defect first.  We may request photos/videos of the problem be sent to us electronically by email.  If it cannot be resolved, we may request the product be returned to us for warranty inspection. If it is a warranty issue we will organise the return portage costs, if it is unclear we may ask that you organise the return of the item, and if it is found to be a warranty issue, we will refund the full postage cost.  As part of our "Dead on Arrival" guarantee, should a product be found to be defective or faulty due to manufacturing defects during the first 30 days, we will promptly repair or replace the goods or supply a full refund of the purchase price.  This choice is at the Buyer's discretion during that first 30 days.  After the first 30 days, the decision to repair, replace or provide a refund during the warranty period is at the sole discretion of Offroad Living.  Any repair or replacement products or parts supplied by Offroad Living will be subject to the remaining time of the original 12 month Warranty period. 
This Warranty does not exclude the consumer guarantees under the Competition and Consumer Act 2010 (CCA).  Should we supply you with goods that fail to meet one or more of the consumer guarantees, you are entitled to a remedy – either repair, replacement or refund as required by law. 
Should you need to make a Warranty claim or general enquiry relating to defects, your consumer rights or remedies please contact Offroad living at us at warranty@offroadliving.com.au
30 Day money back Guarantee:
If you change your mind or make an incorrect purchase you may return the product to us within the first 30 days for a full refund.  The product must be returned in the original packaging, in a new and unused condition, free of defects with all accessories, cables and spares.
Faults/Repairs outside of Warranty:
If service or repairs are required outside of the Warranty period, please us at warranty@offroadliving.com.au for assistance.  We may ask for photos/video of the faults via email to determine next steps.  All postage costs (sending and receiving) will be the buyer's responsibility. 
Once the fault is determined we will then advise what options are available to you.
We sincerely hope you enjoy your purchase and thank you for your business.
Catchya Offroad,
Jason, Kathleen, Clay and Jess